Kill the Poor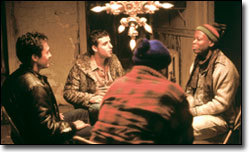 Kill the Poor

By DAVID ROONEY (Daily Variety)


An InDigEnt/IFC Prods. presentation of an InDigEnt production in association with Mr. Mudd. Produced by Ruth Charny, Lianne Halfon, Russell Smith, John Malkovich, Gary Winick, Alexis Alexanian. Executive producers, Jonathan Sehring, Caroline Kaplan, John Sloss. Co-producer, Jonathan Shoemaker. Producer for IFC, Holly Becker. Directed by Alan Taylor. Screenplay, Daniel Handler, based on the novel by Joel Rose.

Joe Peltz - David Krumholtz
Annabelle Peltz - Clara Bellar
Carlos DeJesus - Paul Calderon
Segundo - Jon Budinoff
Yakov - Cliff Gorman
Delilah - Damian Young
Scarlet - Heather Burns
Negrito - Otto Sanchez
Butch - Zak Orth
Spike - Larry Gilliard Jr.

One man's quest to secure safe, affordable housing for his family in New York's Lower East Side in the early '80s is given quiet resonance in "Kill the Poor." Director Alan Taylor has nurtured the project since 1991, attempting to adapt Joel Rose's tragicomic novel himself with the writer before entrusting it to Daniel Handler, author of the "Lemony Snicket" kids' cult books. Result hovers a little uncertainly between dark comedy and urban drama, but remains compelling thanks to its gritty narrative texture, nervous energy and loose, jumpy structure, which fit well with the DV-shot production's no-frills approach. While not at the more commercial end of the InDigEnt spectrum like "Personal Velocity" or "Pieces of April," it should land festival and cable dates with perhaps some limited specialty theatrical bookings.

When his French green-card wife Annabelle (Clara Bellar) becomes pregnant and their marriage of convenience puts down emotional roots, Joe (David Krumholtz) buys into a squatter tenement with more Byzantine co-op rules than most uptown blocks. The building is on the street where his immigrant grandparents settled and his mother was born, but it now resembles a war zone populated by crackheads, dealers and assorted skanks.

Despite the advice of his Uncle Yakov (Cliff Gorman) that this is no place to raise a family -- and the other occupants' warnings that the couple's relationship will suffer -- Joe perseveres, not only moving in, but becoming co-op president.

Aside from taking turns sleeping in the lobby with a baseball bat to keep junkies out, the residents' biggest problem is getting rid of Carlos (Paul Calderon), who has a longer history with the building than anyone else and refuses to pay rent; and his hoodlum son Segundo (Jon Budinoff), who antagonizes everyone.

Starting with a gasoline fire that results in Carlos' apartment being gutted, the action pieces together Joe's back-story while attempting to identify the arsonist among the tenants, none of whom lacks a motive. The film brings bitter-flavored low-key humor -- arguably a little too low-key much of the time -- to its view of communal politics and neighborhood gentrification, and to its depiction of a decidedly low-rent version of the American dream.

In addition to features "Palookaville" and "The Emperor's New Clothes," Taylor has honed his skills with actors while helming episodes of such prime TV drama as "The Sopranos," "Six Feet Under" and "The West Wing," resulting in solid ensemble work by the cast, appealingly led by Krumholtz. The director's feel for Lower East Side characters and dialogue recalls Peter Sollett's recent "Raising Victor Vargas."

Using the digital anamorphic lenses Lars Von Trier developed for "Dancer in the Dark," Taylor and d.p. Harlan Bosmajian give the tight spaces and grungy settings some rough-edged depth -- however, overall visual standard will depend on eventual quality of the film transfer.

Camera (color, widescreen DV), Harlan Bosmajian; editor, Malcolm Jamieson; music, Michel Delory, Anna Domino; production designer, Rick Butler; costume designer, Marie Abma; sound (Dolby), David Ryan; casting, Susan Shopmaker. Reviewed at Cinetic Media screening room, New York.(In Tribeca Film Festival.) Running time: 84 MIN.